FOR IMMEDIATE RELEASE
Ottawa, Ontario Canada November 1st 2015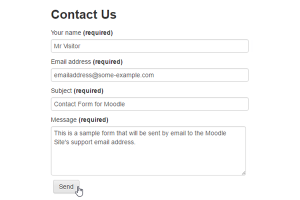 TNG Consulting Inc. has just release the open source version of a plug-in called Contact Form for Moodle.
A Contact form is often a mandatory requirement on all websites to allow the users to communicate with the site administrators or other people in the organization. For example, it can allow the new visitors or the existing students to contact the site's support email address for information or support.
Contact Form for Moodle allows your site to process and send information submitted through HTML web forms and deliver it by email.
Get the Contact Form for Moodle (free) today!
Improve communications with your students and potential customers. Download Now!
The Contact Form for Moodle plugin page includes information on how to install this useful but simple plugin, examples of web forms as well as screenshots of what you should expect to see. There is also a Bug Tracker item set up for feature requests and bug reports.
For more information and support, visit the Contact Form for Moodle repository on GitHub.
TNG Consulting Inc.
Ottawa, Ontario, Canada
www.tngconsuting.ca
613-825-0091
END
###