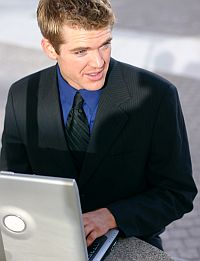 For over 20 years, our friendly and helpful bilingual staff has been providing quality IT services and solutions for people in government, private sector, small and medium size business and individuals.
Our Knowledge + Our Action = Power For You To Make Things Happen
In today's world, knowledge is power. Whether you pay someone to do something for you or you do it yourself, you always end up paying someone in time and effort or money.
It just makes a lot of sense to have a specialist to help you achieve a specific result. Work smarter, not harder.
Government And Corporate Private Sector
We offer a wide range of consulting services to meet the challenges of today's businesses including:
Businesses, Non-Profits, Entrepreneurs And Individuals
If you are an individual, an entrepreneur, you run a small or medium size business or even a non-profit organization or club, you can make technology work for you and you don't have to take a loan out at the bank to do it. The only prerequisites for most of the technology listed below are that you be able to use a Word Processor and have access to the Internet. If you have that under your belt, you're already more than halfway there.
Here are just some of the areas where we can assist you:
One-on-one tutoring on the use of applications like Microsoft Office (Word, Excel, Powerpoint, Outlook, Publisher), Printers, Scanners and other programs
Design and set up a low cost website that includes the features you want - We make sure you can manage the basics on your own or we can do it for you
Help you create content for your website - With a little guidance, it's not as complicated as you might imagine
Fix-up and learn to use your existing website - Make technology serve your needs
Setting up an Online Form - Enable visitors to send you comments, sign-up for your newsletters or download a special report in exchange for their contact information
Taking Payments On-Line
Add Multimedia content on your website - Add audio, video, and PDF files on your web site
Create an eBook or Special Reports - Make it available to visitors to your website
Video Conferencing
Learn how to setup a Webinar and Teleconference calls for classes, seminars
Learn to setup and use Social Media - Facebook, LinkedIn, Twitter, YouTube
Working one-on-one or in small groups, we can even teach you how to take advantage of low or no-cost technology solutions to help you achieve the results you are after.