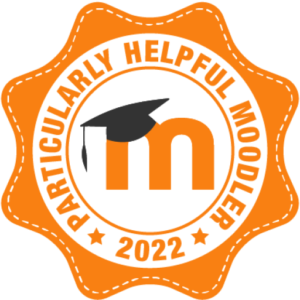 TNG Consulting Inc.'s president Michael Milette was recently awarded the prestigious Particularly Helpful Moodler (PHM) badge for 2022. This is the 9th year in a row he has been awarded the PHM!
The Particularly Helpful Moodler award was presented to Michael for volunteering his time and effort to share lots of helpful information to support new and experienced Moodle LMS users, as voted by the global community on Moodle.org.
Moodle LMS is an open-source, customizable e-learning solution. It is used around the world by governments, businesses, non-profit organizations and educational institutions to deliver engaging in-person, blended and online courses and training to millions of learners.
Additional information about this award is available on the Particularly Helpful Moodler 2022 badge information page.