With very short warning due to COVID-19, you may have been asked to move out of your well-equipped office space, and relegated to working from home for the foreseeable future. All you were given time to do was to grab your laptop. Hopefully you didn't forget your A/C charger adapter or your mouse.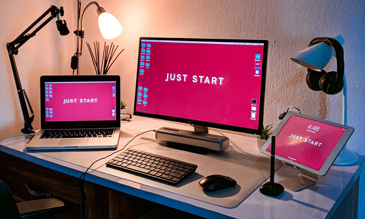 If you've never worked with 2 monitors, you might not know what you've been missing. Being able to see one document or web page while working on another can take you back to the days of having a book next to a piece of paper - except that you can copy and paste a little easier of course. Mostly just to display my messaging app - like Teams, Slack, Skype or Zoom to keep me in touch with colleagues. Other ideas might be a dashboard of some kind that you need to keep an eye on or even just email. But you could use it for almost anything.
Problem is, those second monitors are all still back and the office. While I can't make it come to you, you might have some old monitor kicking around in a closet - you know, just in case you found a use for it one day. If so, today may be your lucky day. Try hooking it up to your laptop!
Be aware that, while many old monitors will work, really old ones may no longer be compatible with Windows 10. If it doesn't seem to show up in Windows Display Settings after connecting it to your computer for about 5 minutes, Google the make and model number of your monitor with the words "Windows 10" to see if anyone else has experience compatibility issues.
The other issue you may run into with old monitors is the connection between your monitor and your laptop. Many old monitors only had VGA or DVI connectors. Your laptop may only have HDMI or Display Port for an external display. There are adapters you can order online for that. Just search for "display adapter" followed by the type of connector on your laptop and then the type of connector on your monitor. For example, "display adapter HDMI to VGA".
If you don't have any video connectors on your laptop or it is already used for a second monitor, you can usually use a USB connectors to connect it to your old monitor. If you don't have an adapter, search for "display adapter USB to VGA". If your laptop doesn't have any USB 3.x connectors, be sure to look for an adapter that is compatible with USB 2.0. But use a USB 3.x compatible adapter if you can as they will support higher resolutions.
In my case, I happen to have a cheap 15 year square 17" Acer old monitor made back in 2005. The problem for me was that mine had poor contrast making everything seem washed out. This can happen over time with old monitors. If this is a problem for you too, check to see if your application happens to have a Dark theme. This makes the application appear with light or white text over a dark background. Looks great and is easier to read. How you do this will vary from one application to another. For example, to activate the dark theme in Teams, click on your profile picture > Settings > General tab and select the Dark theme. This even works in the Web version.
This solution may not be as nice as the set-up you have at the office but it will likely still be better than just working on a single laptop monitor. And you can be proud to be helping to keep old monitors out of the landfills a little longer.
Michael Milette